Boundless
On top of the site specific screening of Body as Border, curators prOphecy sun and Freya Zinovieff have put together a new program for the Surrey UrbanScreen. Boundless is an experimental short screening program that features work by members of the critical media art studio (cMAS), Hamed Rashtian, Catherine Pearce and Maira Cristina Castro, as well as SIAT alumni and collaborators, Professor Jesse Colin Jackson and SIAT Faculty, Kate Hennessy and Steve DiPaola and independent artist Trudi Smith.
Collectively, the sequences depict imagery of buildings, everyday activities, lived experience, bodies, environments and textural qualities, all reflecting on the concepts of macro and micro within the context of prescient social issues such as the pandemic, urban development and the climate crisis. The works weave together a narrative that unites disparate geographies through the sensory embodiment of the human experience, and poses challenging questions about times of crisis and the tensions that exist in capitalist urban development in relation to technological social worlds and representation.

white clouds in the blue sky (2022) is a three-channel video installation that juxtaposes a performative engagement with the materiality of gallery refuse with the poetics and politics of machine vision. Hennessy and Smith methodically construct a sculptural heap of utilitarian objects like stacks of chairs and scrap materials that have been gathered after an exhibition and are destined for the landfill. As they create and then deconstruct the pile of mundane and broken objects, a second video channel shows how these assemblages are interpreted by DenseCap machine vision and description system, which is confounded in its attempts to accurately identify and interpret assemblages of objects created as Smith and Hennessy work. The system uses a neural network language model to generate language sequences (Johnson et. al. 2017), yet the abstract shapes created as the artists arrange waste materials confound the system (see Martineau, 2019), and its interpretations become textual waste of a new order. A third channel shows a poetic text that is edited by the artists from sentences generated by the system. The title of the work, white clouds in the blue sky is frequently repeated throughout the work. It is evocative in its misinterpretation of the scene; its association of landfill refuse with an idealized image of nature; and its reference to the metaphor and materiality of the cloud, where data processing of these images is taking place.
This video work highlights tensions between individual human structures of memory and imagination, and contemporary computational image recognition systems. As they sort through and re-arrange both material refuse and digital waste, the artists draw parallels between the planetary proliferation of material waste, the proliferation of digital imagery being mobilized in artificial intelligence data training sets, and the energy resources required and wasted to power these interactions. By drawing attention to current limitations of machine vision in recognizing and describing objects (and unique assemblages of objects), the work points to significant possibilities and difficulties as humans and machines increasingly mutually constitute, reinforce and re-write classifications and meanings of things. How will machines read images and artworks in the future, and what stories will be told about them? What stories will humans be able to tell and imagine in the future, in relation to new intelligent storytelling machines? What kind of planet will we inhabit? Will the skies be blue? Will the clouds be white?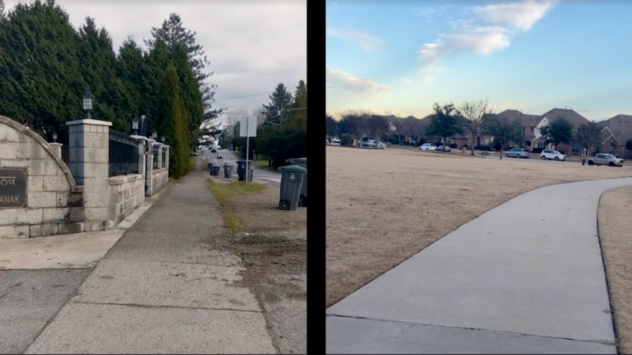 The Border Between Us, 2022. Catherine Santos Pearce.
Catherine Santos Pearce is an MA student in the School of Interactive Arts & Technology, SFU. She is currently working towards developing a video game with documentary concepts and she works at SFU as a Teaching Assistant and Research Assistant. She has directed and produced several documentary shorts that have shown and received awards at numerous film festivals internationally, including her 2018 short DREAMer, which intimately portrays the life of a DACA recipient and university student in the United States.

Skip Stop Site Plan, 2019. Jesse Colin Jackson. Digital Video, 2:00 minutes.
Jesse Colin Jackson's Skip Stop Site Plan (2019) invites us to consider the rise and fall of the five towers of Regent Park South, Toronto. These award-winning (and oft-maligned) structures and their fast‐living architect Peter Dickinson were the apogee of mid‐century modern architecture in Canada. Titled after the architectural curiosity that organizes the towers' design—maximally efficient "skip‐stop" corridors, permitting two‐storey units that front onto both sides—the work depicts the depleted energies present in these buildings immediately prior to their demolition.
Skip Stop Site Plan (2019) is a digital video that juxtaposes two views from above at different scales. The first view depicts the tiled floor details that marked the Regent Park South tower elevator landings—on floors 3, 6, 7, 10 and 13 only, requiring residents of other floors to access their units via stairs. Conceptually compelling but functionally impractical, this fetish-detail ultimately contributed to the impossibility of retaining and renewing these structures. The second view depicts 13 years of Regent Park demolition and new construction, 2005–2018.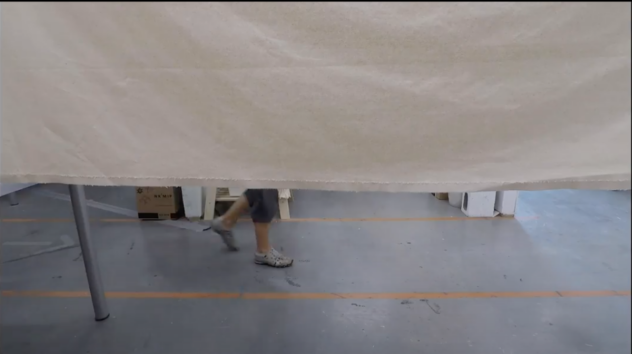 Studio, 2022. Hamed Rashtian.
Hamed Rashtian's latest video piece Studio (2022) is situated within the confines of an indoor environment. Blanketed structures, stark outlines and feet take center stage as Rashtian invites viewers to consider what is seen or felt beyond their eyes and limbs – beyond the veils of humanity.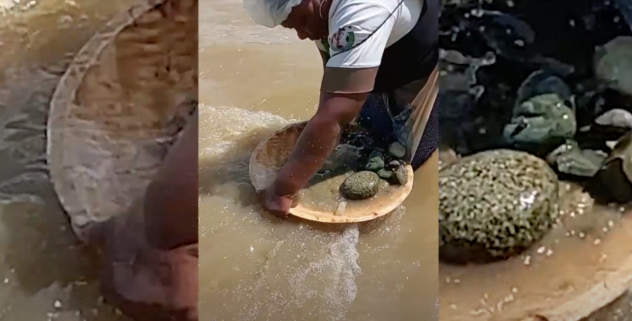 Video Tambadoras (Dancing with the River), 2022. Maira Cristina Castro.
Video Tambadoras (Dancing with the River) (2022) is a short video that shows the art of "Tambar," artisanal gold extraction from the Palo River in Guachené, Colombia. In this video, Doña Gladis tells us how individuals interact with the water and respect the environment.